"Cindy's Winter in Amsterdam!"/Page 2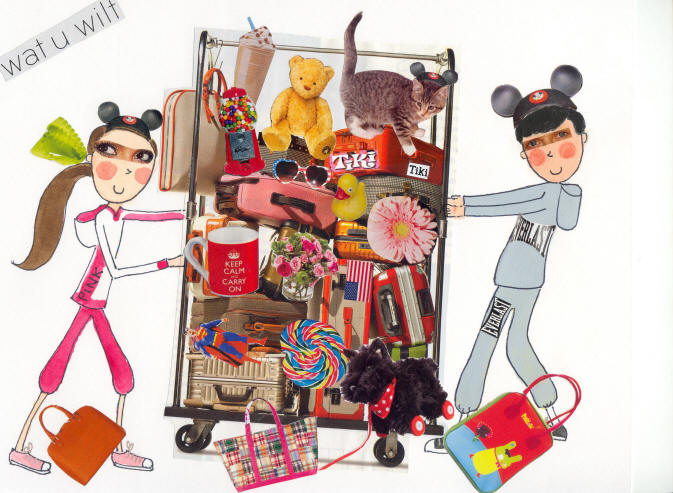 Cindy and Joey and Tiki trade rooms! When we first got to Amsterdam the Grand Hotel Krasnapolsky gave us a really private celebrity apartment at the back of the hotel with a private entrance and lots of rooms in it, overlooking a quiet canal street. Joey is a famous mentalist and we went to Amsterdam so he could serve as a mentalism consultant on our nice friend Uri Geller's hit TV shows for Holland and Germany, he's also been all around the world to Cologne, Istanbul, Moscow, and Athens for Uri's shows. So, the hotel assumed we were American Celebrities and we would Want to Be Alone! But we didn't really, we wanted to be where all the fun was, so we moved to the main historic hotel and had a cozier room right at the front with lots for Tiki to see out the window all the time, and we could just pop up and down the elevator to get to the restaurants and out to all the shops and fun in Dam Square. We didn't really have to move our own cart!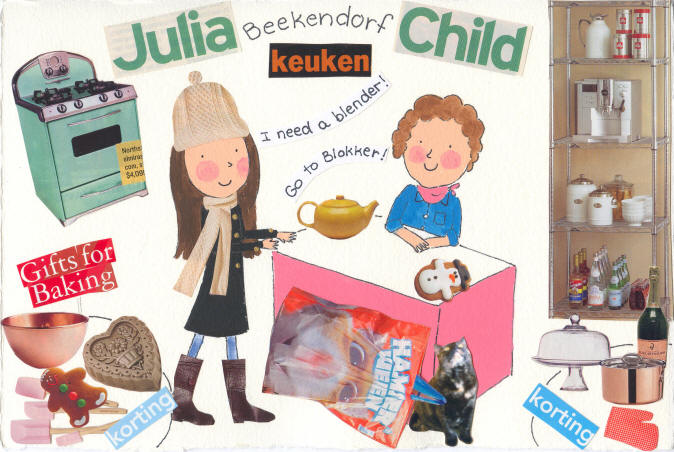 Cindy shops for a blender at the Beekendorf! Okay, it isn't really called the Beekendorf. The amazing department store right next to our hotel in Dam Square is actually called De Bijenkorf, and pronounced "buy-en-korf," but by the time we figured that out, Beekendorf it was! The Beekendorf has everything you could ever want including a fabulous top floor food court where you can get absolutely anything you would like to eat or drink. Whenever I go on one of Joey's trips the first thing I do is find a blender so I can make frozen blended mochas in the hotel room. I'm addicted and I love to have one while I am working on art, even if it is zero degrees outside and snowing! When I went to the Beekendorf I asked the clerk, who looked amazingly like Julia Child, where I could buy a basic blender, and she told me to go to a less expensive shop like Blokker or Hema! I loved that, it was just like the Macy's Santa saying go to Gimbel's! I hope her bosses don't read this! In that case, I made this whole picture up--Beekendorf who?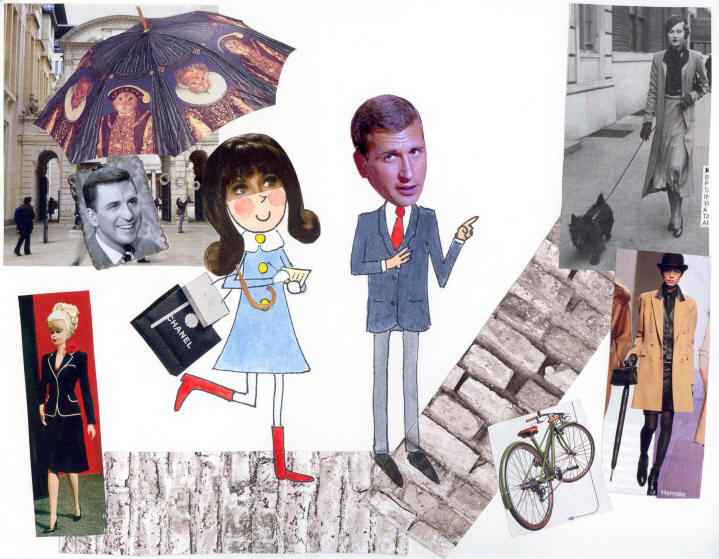 Which way to the Hema, please, Dutch Don Hollinger? If you're going to live in a hotel room, even a five star one, for a whole winter, you need things. Like a yoga mat so if you are bouncing up and down to your exercise show you don't accidentally slip on the polished floors and fly out the window, and alarm clocks so you know it's morning even if the sun never, ever comes out all winter. On one of my first days in Amsterdam I was looking for the store everyone kept telling me to go to for all sorts of useful things, Hema. So I asked a passing businessman if he could please tell me where it was. He looked exactly like Don Hollinger, the charming, patient boyfriend who always wore a suit on the classic TV show "That Girl!" I've always been convinced I am "That Girl" because I always get into funny situations like she does. So it was fun meeting my counterpart! Dutch Don Hollinger was very nice just like the real Don Hollinger, and he didn't mind explaining patiently while I tried to get his instructions straight!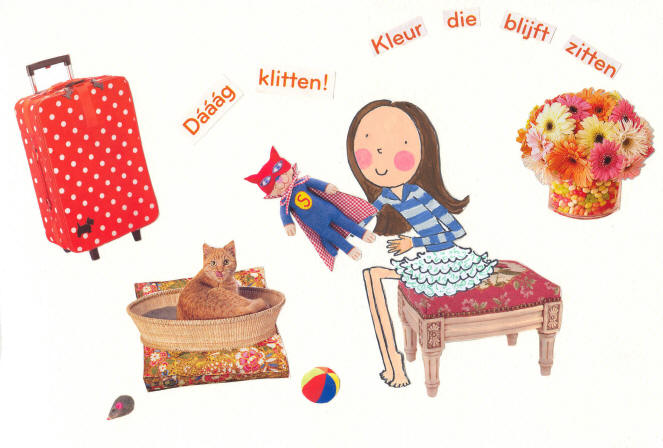 Cindy entertains Tiki! Tiki loves staying in hotel rooms, she instantly settles in and finds all sorts of fun new things to do and look at, especially at 3 a.m. because cats evidently never get over jet lag! While Joe is working on TV shows, Tiki and I have a lot of time to play favorite games. It's fun shopping all around and finding some fun little toy to bring back and amuse Tiki with, but she is just as happy pouncing on a ribbon on the bed for hours or running as fast as she can across the polished floor and skidding into the door or sliding under the bed over and over! It's so fun to watch! One of us is very easy to entertain...or maybe we both are!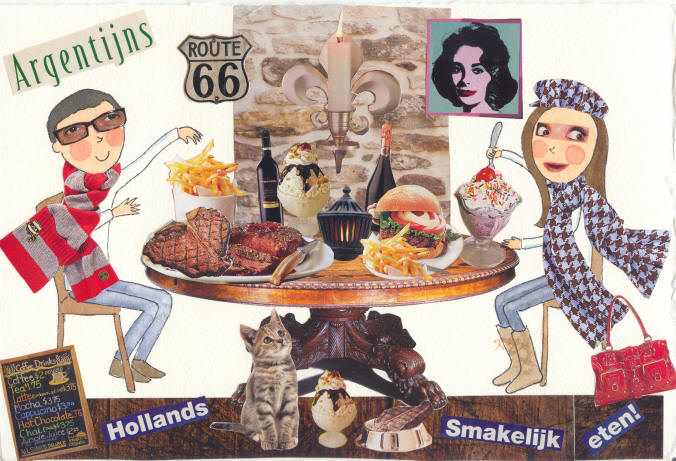 Cindy and Joey dine out! If you haven't been to Amsterdam, you may be surprised, as we were, to find out that there are absolute zillions of Argentinian steak restaurants there! Argentinian? Who knew! As you walk along the street the waiters pop out their doors and invite you in! The steaks and hamburgers are very tasty and spicy and come with sauces we had never tried, but the very best thing about Argentinian steak places is they have fantastic ice cream sundaes and absolutely everyone orders one!
Copyright © 2010 by Cindy Atmore