Cindy's Art Gallery/Page 17
Here's something different! These are a few of my watercolors!
A portrait of Bono...
That's a photo of it. This scan shows it better...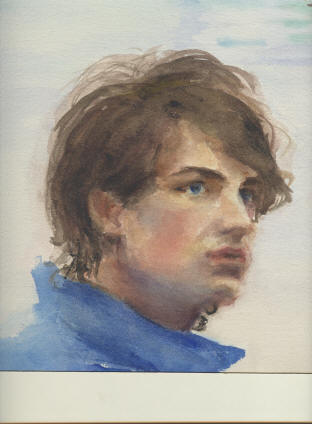 Bodiam Castle in England... This was my childhood home. No, I'm just kidding!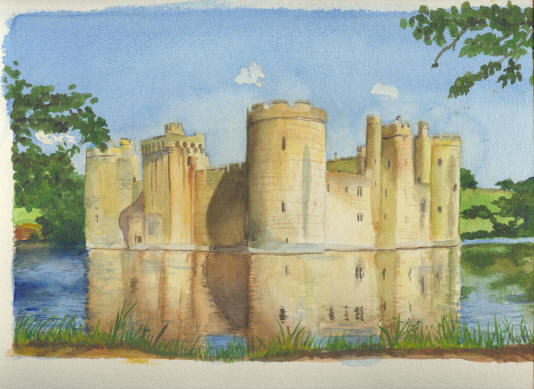 Two riders in the hills and mustard fields near where I lived when I was little. I grew up in a suburb, but if we got up really early, before dawn, before the birds, we could hear the cows mooing up in the hills behind our house. I love mustard fields! I used to cut through one that was taller than me every week to get to the library for my weekly stack of books when I was twelve. It was heavenly!
This scan shows the color better than the above photo...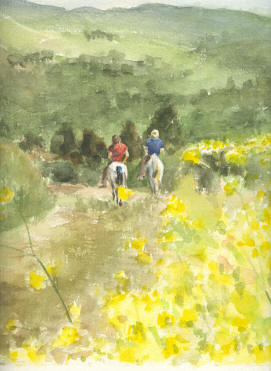 An Irish girl I found a photo of in a book. This is a big picture, a full sheet of watercolor paper.
I painted a smaller, earlier version. The gentleman standing by it loved it so much when he saw it in a show, his lady friend wanted to buy it for him. She kept calling me for a long time asking to buy it, and I kept declining to sell it, until finally one day on a whim I stated what I considered an outrageous price expecting to dissuade her, and wouldn't you know, she snapped it up! I missed it, so I painted myself a new one!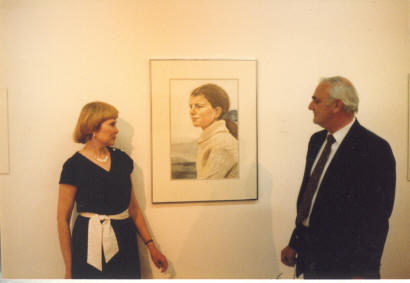 I love her face!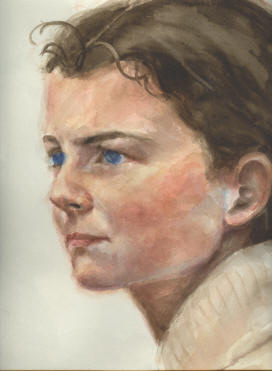 Next is a painting that won Best of Show at my university's annual student art show! I was an English major but I wanted to win that title so much, I was a bit obsessed. Then one night before the show was even mounted and before I even knew if any of my work got in, I vividly dreamed that it happened. The next morning I raced over to campus, dashed downstairs into the gallery to look, and got there just as the tag saying "Best of Show" was being set out below this painting, and it was all exactly as I'd dreamed it! I've had dreams that really happen like that all my life, as well as premonitions and sometimes words or sentences popping into my head about people or things that prove amazingly prescient--or just as often, completely wrong! I wonder what ever happened to this guy, Joe somebody?
The photo is okay, but here's a scan, too...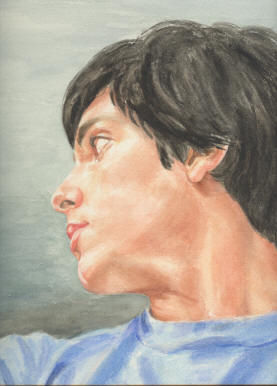 A portrait of my Santa Clara University professor, Mark Lynch, who I really loved. He was only thirty, very funny, a brilliant young archaeologist and incredibly popular teacher, and the adored favorite of every student on campus. He died unexpectedly in a street accident not long after Joe and I met in his class about skeptically examining mysteries like Bigfoot, UFOs, and Atlantis, and I was asked by the Anthropology Department to do this painting for the Anthropology library at SCU. I still miss him and think of him all the time, he was a really special person in my life. I especially miss him stubbornly insisting on calling me Cynthia and teasing me mercilessly until I was completely flustered, and then laughing at me!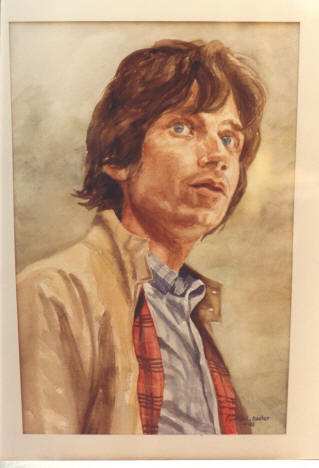 A little boy with my birthday! I did this next one as a gift for a patron at the library I worked at for a few years, because I thought the picture she showed me of her grandson was so cute. Then I was surprised after I'd painted it to find out we shared the same birthday, February 16. The lady showed it to an art studio where she studied, and they asked me to teach classes! I was too terrified!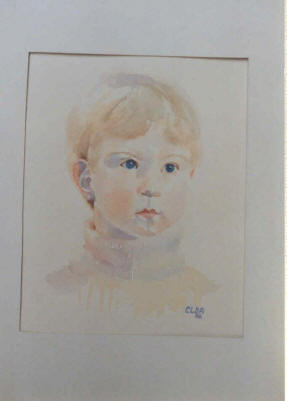 Joe the Bike Rider! When I first knew Joe, he raced bikes all the time and was just like that kid in the movie Breaking Away, completely obsessed with Italian bicycle racing champions. Once in a race he cracked the top of his helmet, cracked the sole of his shoe, and scraped his elbow--all in a single crash!
A tiny portrait of my mom graciously reading... She's the greatest reader I've ever known. And the greatest mom!!!
Copyright © 2006 by Cindy Atmore