Cindy's Art Gallery/Page 16
These are some pictures I did as "commissions," that is, special requests. Sometimes I even commission myself for a special occasion when a card is needed!
This is a card I made when our friends and next door neighbors the Wassells moved to the Philippines to do missionary work a couple years ago. It shows Chris, Kathy, Mackenzie, Terilyn, Brogan, and A.J., and I hope I've spelled all those right! They were the most fun neighbors we've ever had and we miss them!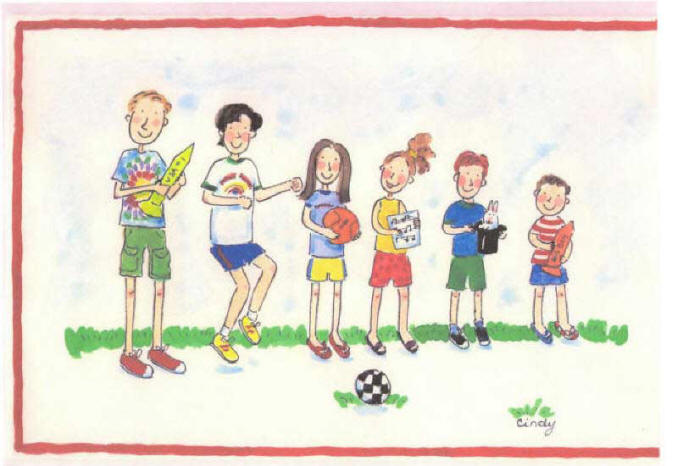 I love this one. A committee decision! Inside, it shows that after all that agonizing, they settled on the wildly original "Get Well Soon!" Groups of alligators in my art always have trouble with teamwork because they all talk at once! I made this one when one of Joe's bosses had an operation. But his boss didn't look like an alligator, he looked like Jerry Seinfeld!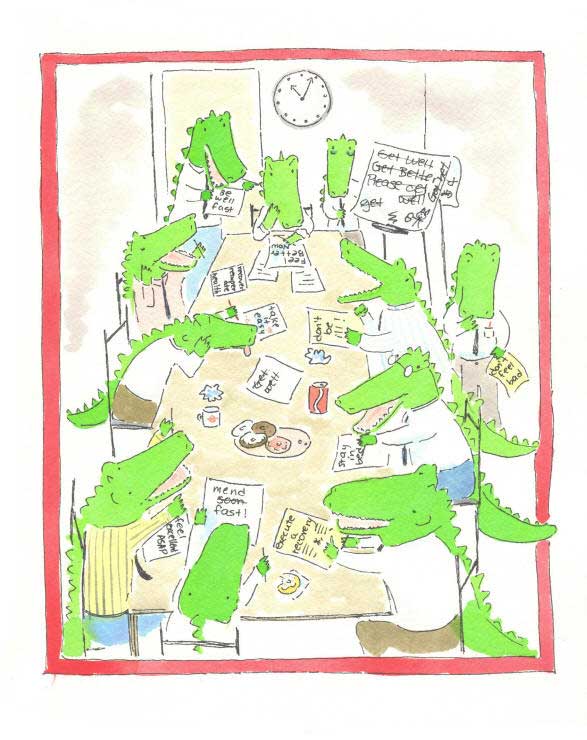 Joe needed a cartoon of Dunninger to put on a dozen labels for some slates he had made and was selling, so I did this one. He liked it, so he decided to put it on some signs, too. Then he decided since he had already violated my copyright, he may as well put it on 1000 copies of his Dunninger radio show DVD, reversed to look like chalk on a slate, without mentioning it! This is the kind of free-wheeling attitude that would get any other customer in Big Trouble. In this case, I'm just going to spend all of Joe's DVD royalties on chocolate malts and Paul Frank Julius the Monkey tee-shirts and let him off with a warning.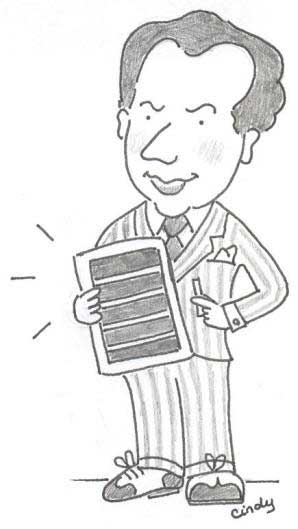 The beginning of Joe's copyright violating spree, below.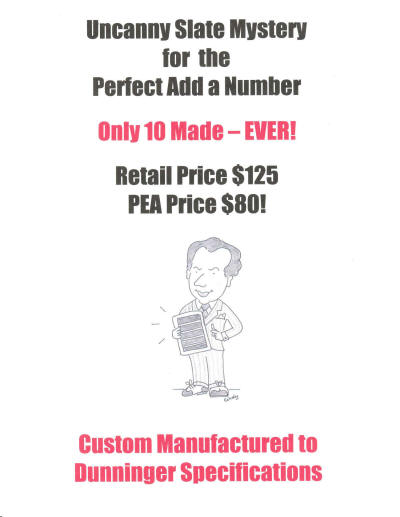 He was probably hoping I wouldn't recognize this when I watched the DVD, but he forgot and left my name on it!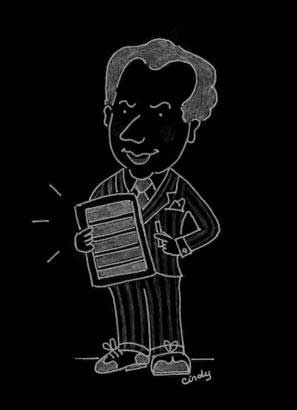 You know what can happen if you're an artist and anyone sees you sitting around for five minutes watching "Supernanny?" Suddenly there's a cartoon in desperate need of drawing. There was a big flap one day on one of the magic boards, and Joe absolutely had to have this custom-ordered cartoon to post in the next five minutes. Unfortunately I know the whole story behind it, but I'll spare you. Guess who the cartoon guy is? NBC's The Mentalist, Gerry McCambridge. For my five minutes of slave labor, guess what my reward was? Gerry told Joe, "Your wife has too much time on her hands!" I let Joe live this time, but next time...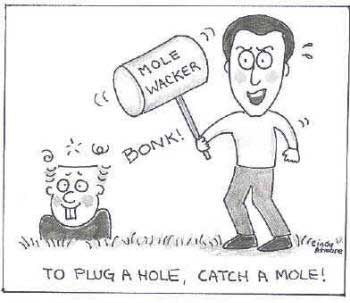 Obviously I didn't learn my lesson. Recently Joe needed another short-order cartoon to get members of his mind readers club to sign up for their convention which he was organizing. This one was meant to look suspiciously like Gerry again, and in case that wasn't obvious enough, the Rampart is the name of the Las Vegas casino where Gerry headlines regularly! Gerry was not going to attend the convention, and Joe thought it would be fun to rib him about it. Before Gerry could see it, Joe somehow convinced him not only to come, but also to star in his Rat Pack style show! It might have involved some shameless nagging and the threat of a cartoon.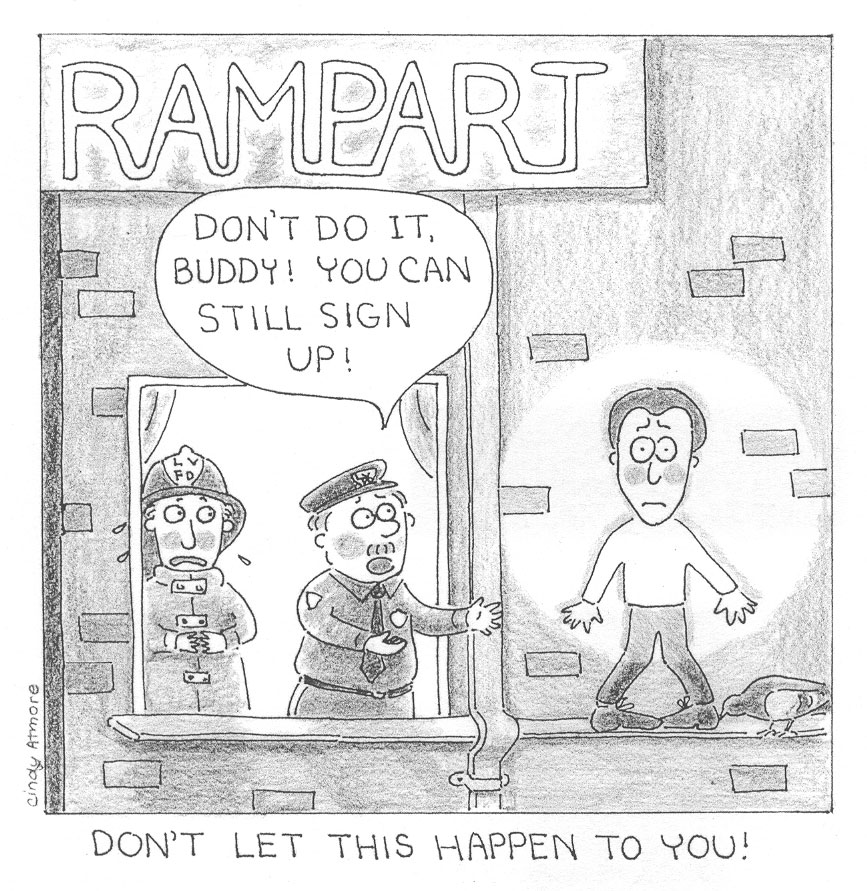 One day Joe desperately needed some art for the cover of his mind readers convention program. It had to be a cartoon based on a famous scene from "I Love Lucy," but with actual famous mentalists substituted for Lucy, Ricky, Fred, and Ethel, and it had to be done that afternoon. An hour later when I was finished with it, I was thinking I've filled a real vacuum in the art world. Where else can a demanding mentalist rush order custom cartoons of his famous friends in scenes from "I Love Lucy"?!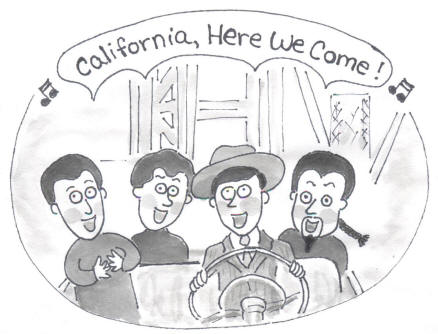 Our friend Loyd Auerbach is a ghostbuster, and wanted to see some sample ghost illustrations for a kids' book we might do together. So I did these--and then he told me ghosts just look like everyday people! I love the scary ghost dog with the red eyes and tongue!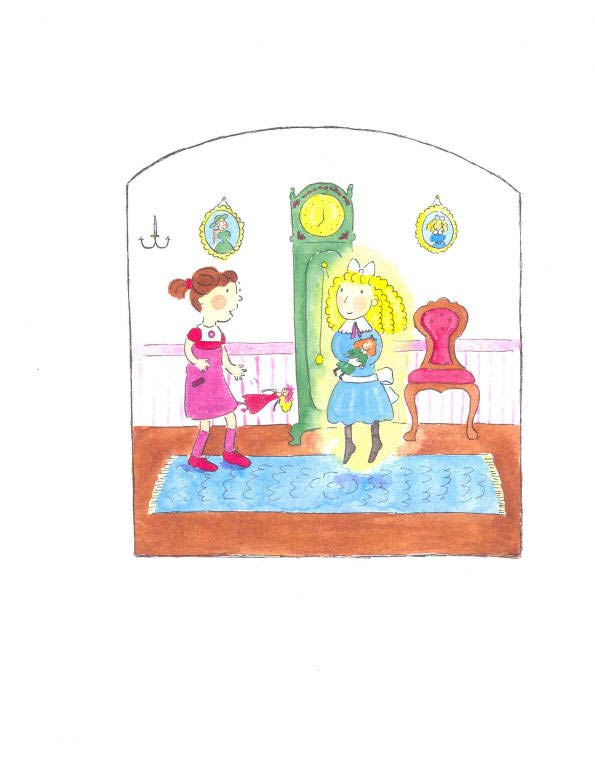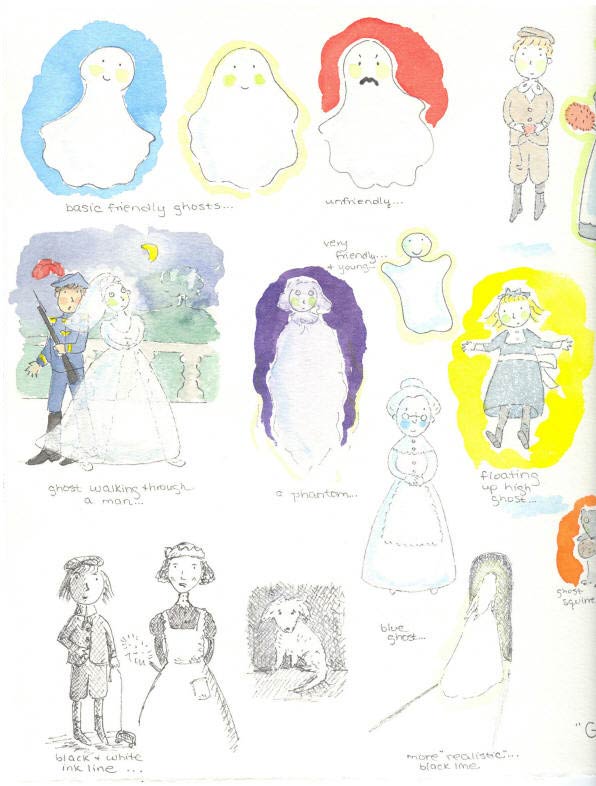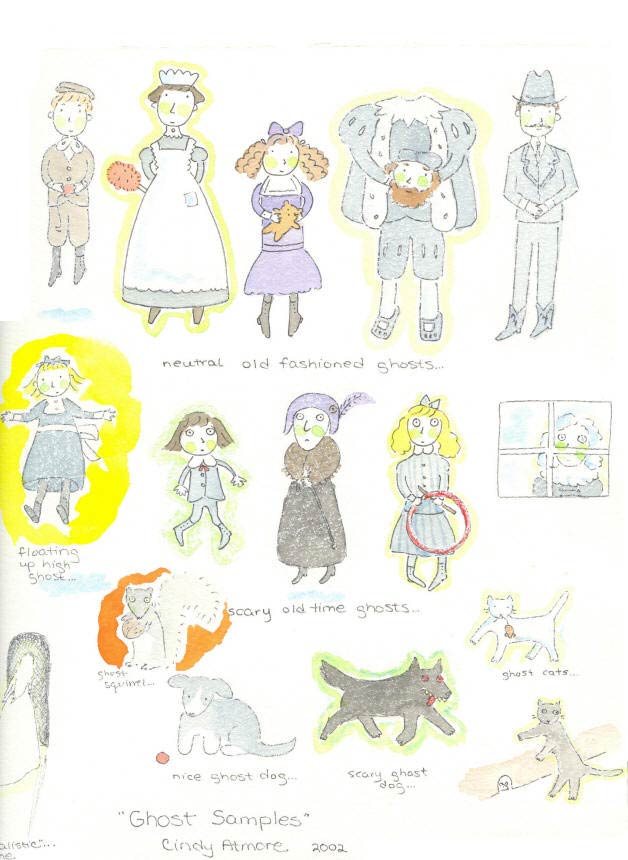 My Aunt Sharon and Uncle George have a yacht and send out holiday cards to about a hundred members of their yacht club. For the last few years, I've had lots of fun designing their cards!
This first one said "Ahoy to the world" on the front, and inside, "Yuletide has come!" That's their pet dog Winnie. Can you believe a lot of people asked where they found cards with characters who looked so much like them?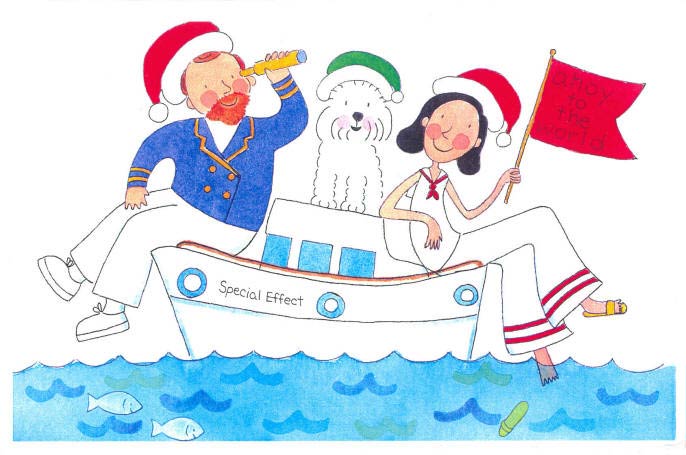 This time it was "Dinghy Dongy Dinghy Dongy, Christmas Bells are Ringing" Do you get it? They're in their dinghy. The new family addition is CeCe. And that's their pet fish Lucky. And their boat is called Special Effect because they own an Oscar-winning special effects business in the movie industry. I guarantee you've seen their creations!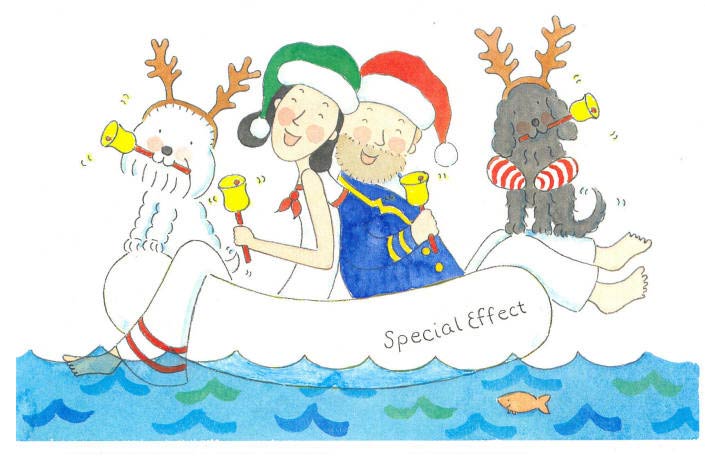 Just for fun, here is the third card when still a work in progress, this is just a pencil rough. The design was not exactly what Aunt Sharon asked for, so I had to adjust it a bit. This one said on the front, "Do you sea what I sea?" And then inside, "A star, a star, dancing in the night, with a tail as big as a kite!" And then "Wishing you goodness and light this holiday season." Inside was also the view inside the telescope--the Christmas star. I can't wait for the year they let me make them castaways in pirate clothes digging for treasure! Here's the rough: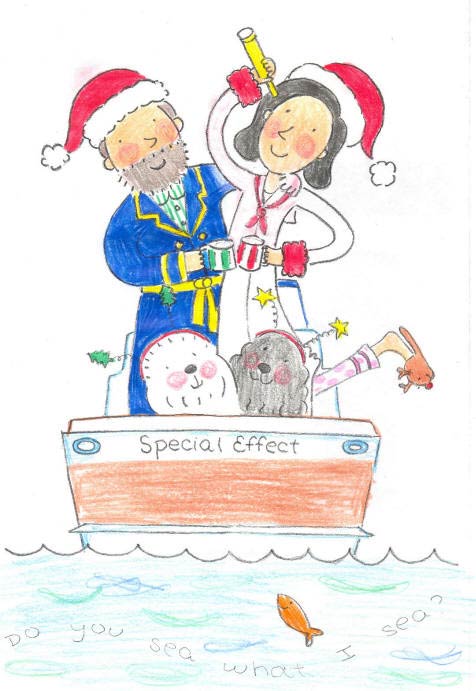 And here's the final design! This ended up being on the front, a more reverent, sort of holy-feeling image of them gazing in awe at the Christmas star, which was just what my aunt wanted.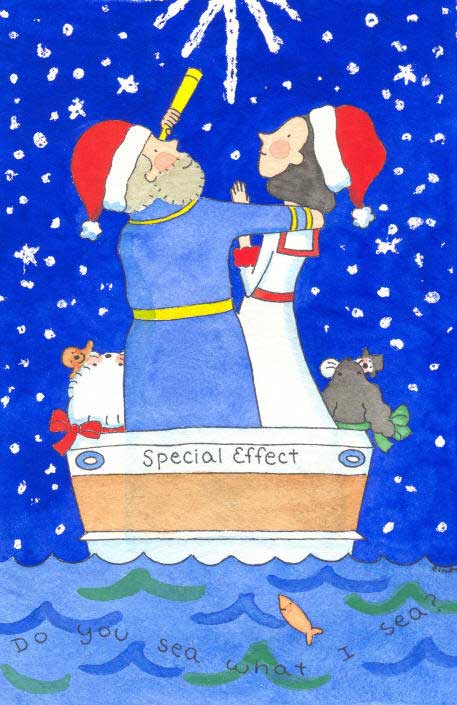 And next is the back! I wasn't sure my aunt would agree to having the more whimsical version on the back, but she did! The telescope view inside worked out nicely, Aunt Sharon drew the gold stars and their rays with a metallic marker. The minute it was finished, we were already talking about the next card--they'll be scuba diving around a sunken treasure chest full of Christmas things!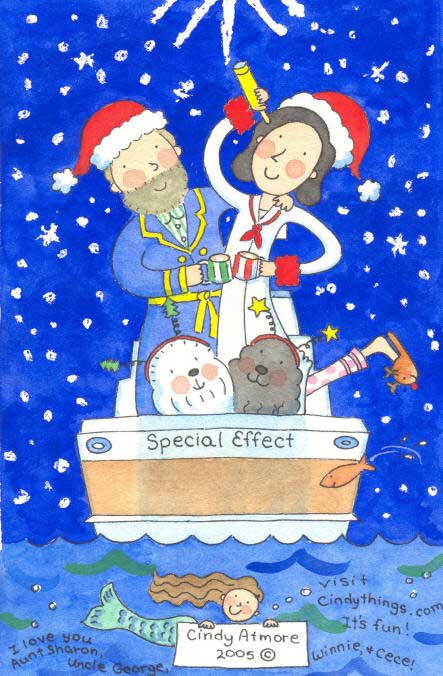 Sure enough, that's what they're doing in the 2006 card! I didn't notice I'd forgotten to paint in the little bit of blue water in the hole in the shovel handle until I got mine in the mail! Drat! We couldn't think of a holiday song to put inside that matched the image, so we just put "Have a Maritime! (merry time!)"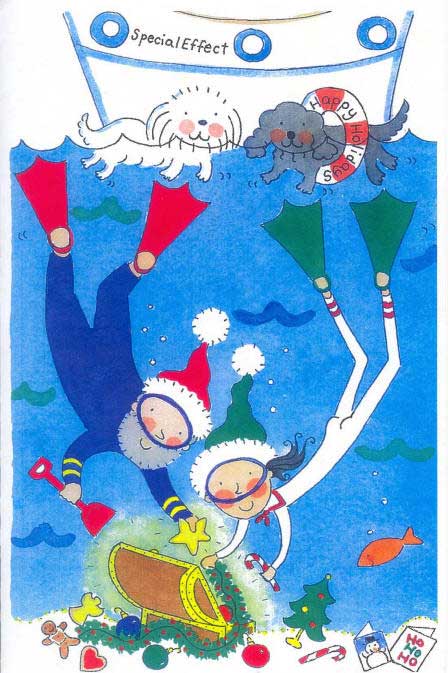 Here's the back of the card. Cindy the Pirate! The name on the boat is "Miss Cindy", just like my Grandpa's boat. He named it after me!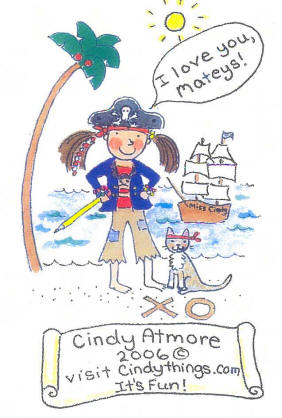 This is a fun card I did a couple of years back when my dad had an operation, his first ever, and I was motivating him to take his walks, which you're supposed to do for a few minutes several times daily to get better fast. Inside it said, "Don't make me have to use this!"--meaning, the leash! I didn't give it to him because by the end of a week or two, he was walking a mile or two at a time, and I was worried about over-motivating him any worse than I already had! Or maybe I was afraid he'd send me to my room!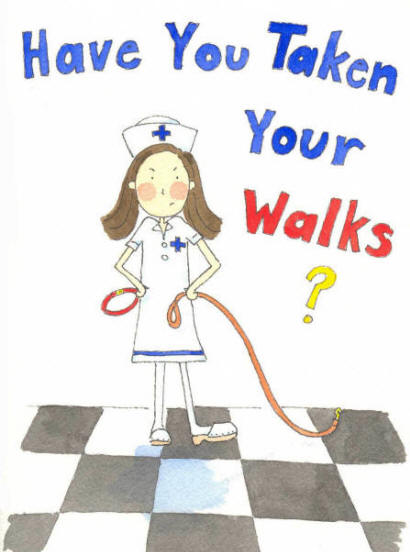 A card I did to commemorate my little friend Gracie's first communion...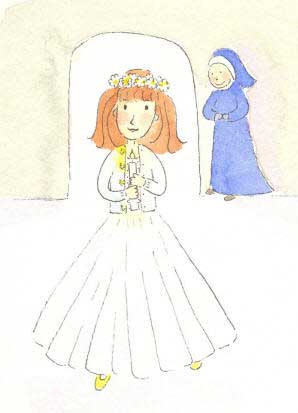 A picture of our friends' cafe, when it was first open and had few customers except for us! I did a brighter watercolor version, filled it with interesting make-believe people like twin blonde sisters carrying twin bowls of pea soup, and a lady with a green parrot sitting on her shoulder who was someone I really saw there one day, and it hangs in their cafe right by the espresso machine where all the customers see it. Many of them have asked, "How did you find a picture that looks so much like your cafe?!"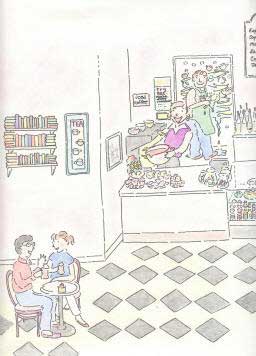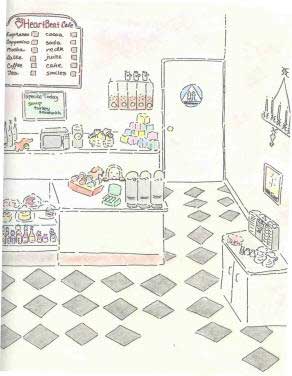 This is a holiday card I did for the 2005 holidays for a super-nice and fun couple of good friends of mine, Laura and Kayvan. It's got them, their two kids Katherine and Robin, and their five pets, J.T., Annika, Simone, Joscelyn, and Jadzia. They asked to be shown riding a sled in the snow. I fooled around with having the sled crossing a snowy scene from right to left with everyone in a crazy happy pile on it, but then I found out from Joe that sleds are only wide enough to seat one person across! That's what happens when you grow up in California, you don't know these things. So then I tried having the sled going in profile down a hill with everyone in single-file on it, but I didn't love that either. Finally it just hit me, the best way was to have the sled coming right at the viewer! They loved it!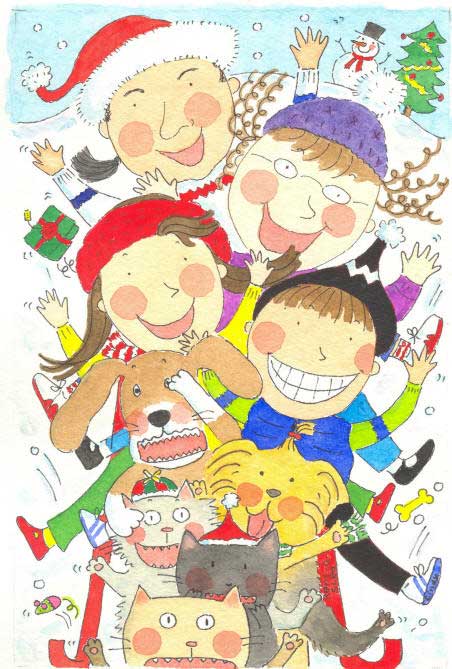 This is what's on the back. I always do a fun Cindy logo. In this case, it's Cindy as the Rent-a-Sled girl, to go with the "Rent-a-Sled" on one of the sled rails.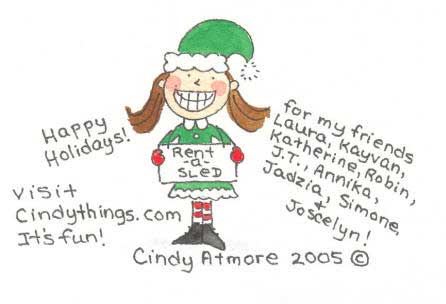 Here's another holiday card I did for the 2005 holidays. This one was for one of Joe's friends who runs a company that brings game show set-ups to corporations and parties. It shows Rudolph having a bit of revenge on the other reindeer who never let him play--he's now the game show host and asks lots of questions they can't answer!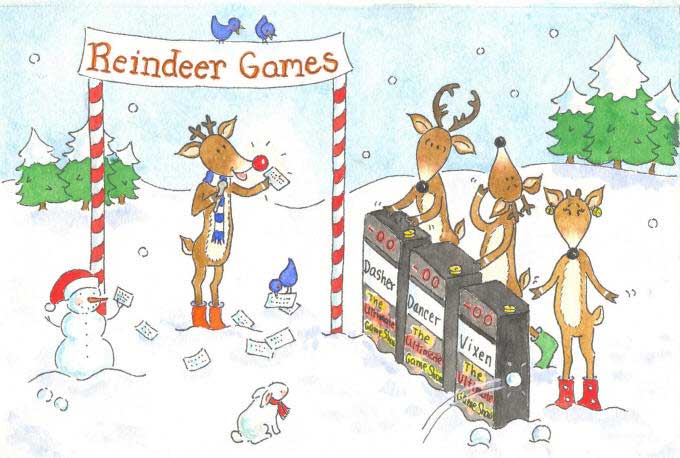 Here's what's on the back of the card! Cindy ice-skating with a cute penguin! Wouldn't they look cute on a tee shirt? Maybe I'll put them on one!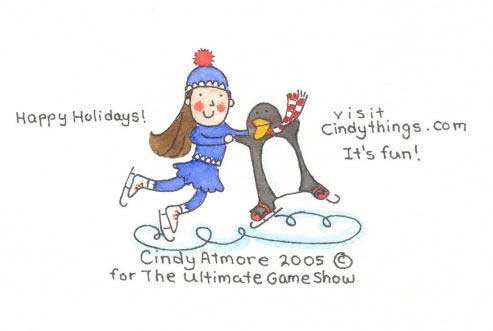 Next is another card I did for the 2005 holidays. Joe likes to send his magic and mentalism friends holiday greeting cards every year. I was doing some other cards, and I got to thinking about Joe's "Joseph Atmore is Dunninger" radio show (available on DVD at JosephAtmore.com!). "The Blue Network" was a real network (now NBC) that produced Dunninger's radio show (and Joe's "radio show"), but I think it sounds made-up and kind of mysterious and funny, so I decided to try making an official Blue Network in-house memorandum holiday card. I really wanted to collage an actual photo of Mel Cooley from the Dick Van Dyke Show looking very serious and producer-like on the front, but I couldn't find the right photo, so I had to draw a Mel Cooley-type instead. Here's the front, with Mel "Blue Man" Cooley in his Blue Network-standard blueberry-blue suit, seeming every bit the Blue Network company man.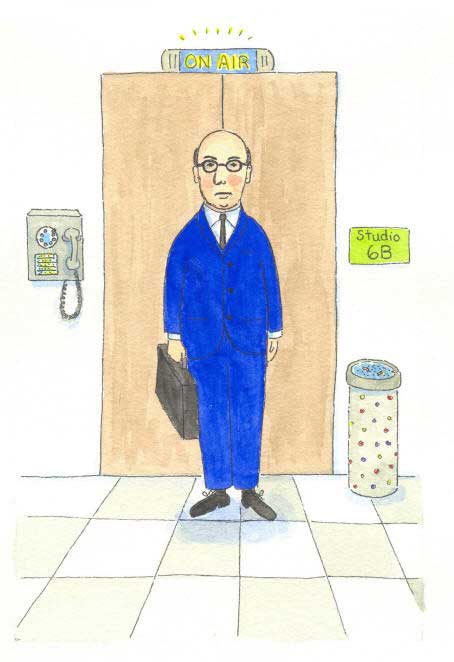 Here's the message inside: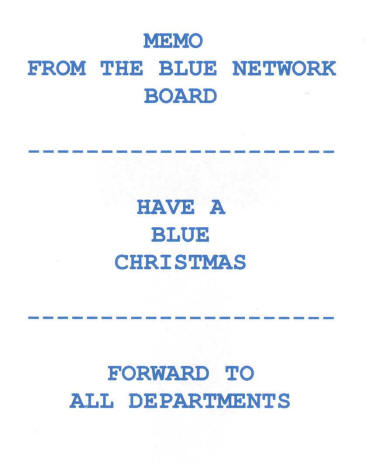 And here's the little surprise on the back, Mel's reaction to the memo he's obviously just read.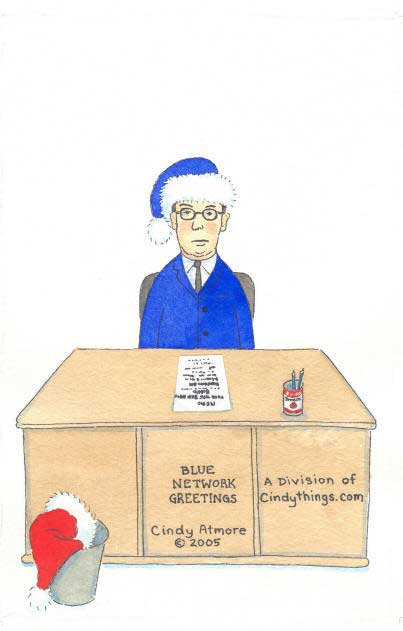 Poor Mel, there goes his red Santa hat and all his non-blue holiday plans, but that's the price of being a Blue Man. This is the first in a series of Blue Network Greetings I want to eventually do. Notice the tomato soup can on his desk--a little nod to my idol Andy Warhol! After all this, we decided it was maybe a little too bizarre, so Joe didn't end up using the card, he used some made by my slightly larger rival, Hallmark! He'll be sorry when Hallmark buys out the Blue Network Greetings Division of Cindythings Conglomerate for a billion dollars and he has to pay retail for them!

Art Gallery Cindy's Practice Pictures Page 15 Art Gallery Cindy's Watercolors Page 17

Copyright © 2006 by Cindy Atmore