FAQs
Question: Who makes them?
Answer: Me. My name is Cindy Atmore. I'm an artist and writer and the Queen of Cindythings. I am absolutely no relation to Joe Atmore, the famous Dunninger expert and author of Brain Busters and star of the DVD Joseph Atmore is Dunninger, and I kind of wish everyone would stop asking me about that. It's all just an amazing, bizarre coincidence that we have the same last name and live at the same address and share a cat and he parks his blue Mini Cooper next to my red one. I've never even met him. Who is he again? Here is a picture of me and someone. I don't know who the guy is who looks like Joey from Friends but I feel like I've seen him before somewhere. I can't remember where but I have the feeling he was annoying and it had something to do with him knowing what I was thinking. I doubt that. Oh, I know where I've seen him. In the same picture in the other gallery!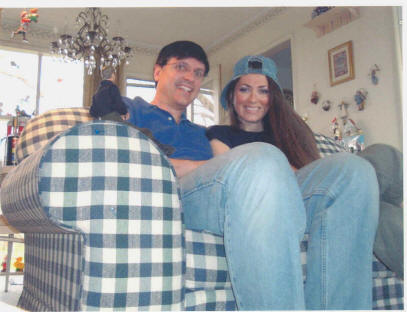 Question: Why did I make them?
Answer: I made the first Candy Mentalists for a cake for a party for a bunch of mind readers! You can read the story in the Candy Mentalists Gallery. I made the Candy Magicians mainly because I wanted to eventually. The why now is, shortly after the Candy Mentalists Gallery launched, MAGIC Magazine asked me to make a few Candy Magicians for an article they wanted to do right away on the Candy Mentalists to coincide with their Sweet 16th anniversary. They also wanted some to display at the opening party for their "MAGIC Live!" Convention in Las Vegas. So I made them and everybody lived happily ever after.
Question: Where are they kept?
Answer: At this time I've filled the whole house, a wing of the Louvre, two floors of the Guggenheim, a major gallery at MOMA, and the Smithsonian is undergoing an expansion to house them all.
Question: What am I going to do with them?
Answer: Either send them all to boarding school or eat them in my Lucky Charms breakfast cereal when I run out of marshmallows, because someone won't stop picking all the marshmallows out of the box. Okay, it's me.
Question: How do I make them?
Answer: Drinking Frappuccinos, eating cupcakes, listening to something educational like I Love Lucy or Bewitched, and giggling.
Question: Can I buy one?
Answer: I would much prefer you buy my fun, hip, cool Candy Magicians merchandise in my Cindythings Shop at Cafepress, including greeting cards, mugs, and tee shirts, because then I can just earn money while I watch the Bob Newhart Show and eat cupcakes! But if you really want one and insist on making me work, I am now taking custom orders for Candy Magicians and Candy Mentalists. For $100, I will make one of you, your friend, or classic magicians and mentalists, but I won't make anyone who might sue me, and I refuse to take any orders for "Candy Joe Atmore"s on the grounds he would deliberately relax in front of me while I worked on it! Delivery time varies between two weeks and ten years, depending on how many I have lined up to do, and whether I decide to eat one because it is just too yummy looking. The original Candy Magicians and Mentalists featured in my galleries are not for sale--yet. I have to say that to make them behave.
If you have any other questions for me, please feel free to contact me!